About us
Your hosts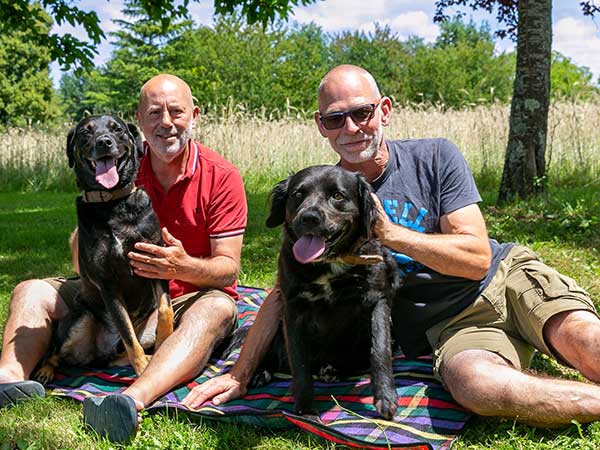 We've told you a lot about the Domaine and our region so we thought it would be nice if you knew a little more about us, David and Neil, before we welcome you to our home.
David had a long and successful career as an accountant in local government, specialising in social housing. Before moving to France he was Director of his own company for seven years providing financial management and consultancy services to London Boroughs.
Neil had a varied career in the UK, most recently as an actor, writer and theatre producer. Prior to this he was a senior manager at the BBC and ITV.
We had long dreamt of living in the Dordogne. After nearly three years of searching we found La Banne in June 2017. As soon as we stepped into the courtyard we immediately fell in love with the farmhouse and its surroundings, knowing this was the place that would give us the 'changé de vie' we had been seeking. The renovated farmhouse, barns and stunning countryside with beautiful Belvès as a backdrop, makes La Banne a special place.
In December 2017 we moved in and began the process of settling into our new home and creating a chambre d'hôtes and gite for our guests to enjoy.
We take great pleasure in sharing this amazing setting with others who wish to experience its tranquil beauty, history and culture, as well as exemplary food and wine, all of which Domaine de La Banne and the Dordogne has to offer.
We live on-site in the farmhouse with our two dogs, Leo and Libby.
We're really looking forward to welcoming you to Domaine de La Banne as our next guests.
À bientôt!
Neil and David